Elegance Unveiled: Exploring Infiniti Jewels with its Director, Saagar Mehta
12th October 2023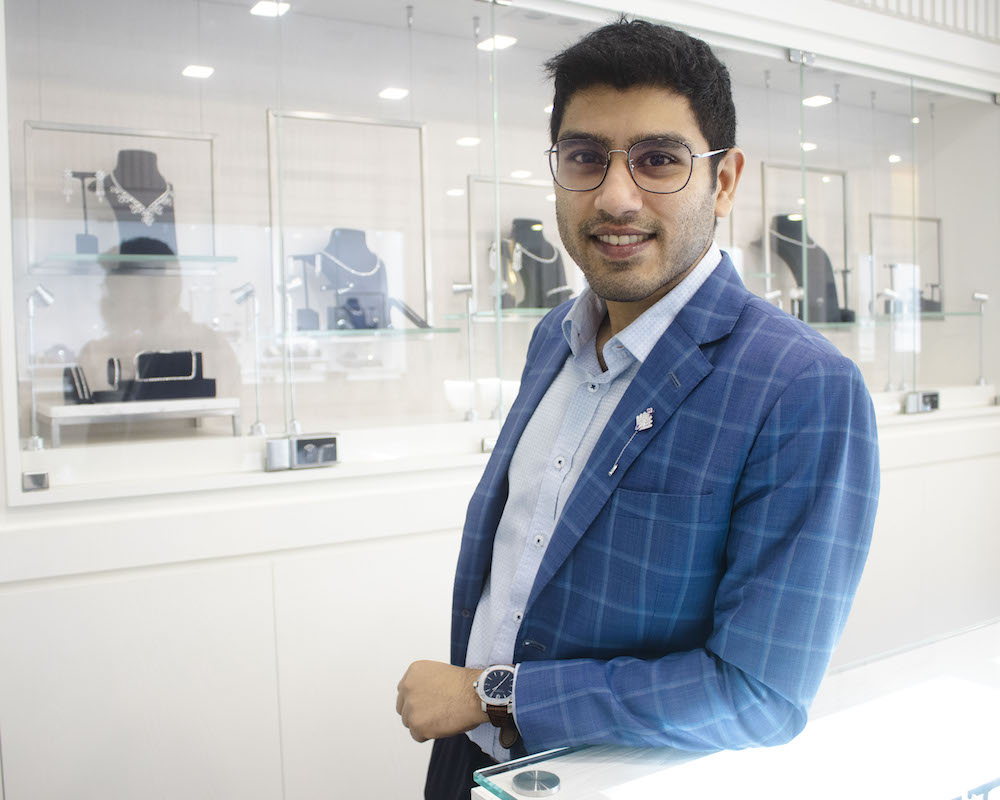 Infiniti Jewels recently joined The Luxury Network UAE, and we had the privilege of sitting down with Saagar Mehta, the Director of Infiniti Jewels. In an exclusive interview, we delved deep into the heart and soul of this luxurious brand, exploring its extraordinary jewellery pieces and its rare, investment-grade gemstones.
---
1.     Can you tell us more about the unique legacy of Infiniti Jewels and how it has evolved over the years, especially considering the Mehta family's history in the world of gems?
Infiniti Jewels has an enduring legacy that stretches back to 1982, and we take immense pride in being part of the Diastar family. Our journey began as a humble B2B venture, but over the years, it has transformed into an extraordinary B2C business. At the heart of our legacy is a commitment to excellence, rare beauty, and the relentless pursuit of bespoke fine Jewellery.
The Mehta family, with its deep-rooted history in the gem industry, played a pivotal role in shaping Infiniti Jewels into what it is today. It has endowed us with a unique advantage to supply the most exquisite and investment-grade gemstones for our discerning clientele.
Our commitment to quality, precision, and the use of the most precious materials has been unwavering. Furthermore, we've recognized the importance of offering our clients a pathway to not just own rare and precious gemstones but also to realize the investment potential in their acquisitions. This is where our unique value proposition lies. We've created a platform where our clients cannot only acquire these investment-grade gems but also have the flexibility to liquidate their investments through us when the time is right. This legacy, combined with our forward-looking approach, positions Infiniti Jewels as a leader in the world of bespoke jewellery and gemstone investment opportunities.
2.     Infiniti Jewels aims to fuse tradition and innovation. Could you elaborate on how this fusion is reflected in your jewelry and gemstone offerings?
This fusion is most evident in our innovative jewellery designs. We provide our clients with the versatility to wear a single jewellery piece in three to four distinct ways. This not only showcases the time-honored craftsmanship that's at the core of our pieces but also embraces modern innovation by offering multifunctional pieces that adapt to various occasions and styles.
In addition to our transformable designs, we offer a fully personalized experience for our clients. While we have a stunning array of in-house designs to choose from, clients have the freedom to craft their unique jewellery pieces. Our team of experienced designers will accompany them throughout the entire design process, combining traditional artistry with innovative ideas to bring their vision to life. This perfect harmony of tradition and innovation ensures that our clients can express their individuality through our jewellery while enjoying the highest levels of craftsmanship and quality.
3.     The commitment to excellence is a core value at Infiniti Jewels. How does your company ensure the highest standards in diamond cutting and jewelry craftsmanship?
We prioritize maintaining the highest standards in both gemstone cutting and jewelry craftsmanship through a rigorous and comprehensive quality assurance process.
For diamonds and gemstones, we leave no room for compromise. Our experts employ a series of exacting quality checks that scrutinize various aspects of these precious stones, including their cut, colour, and clarity.
Only gemstones that meet our uncompromising standards are chosen to become part of our exquisite jewellery pieces or loose stone inventory.
When it comes to jewellery production, the same level of meticulousness is maintained. Our craftsmen adhere to a strict set of quality control protocols that govern each step of the jewelry-making process. Every element, from the design concept to the sourcing of materials, and lastly, to the final product is examined with precision and care.
4.     Could you share some examples of bespoke jewelry pieces that you believe truly embody the essence of elegance and sophistication that Infiniti Jewels represents?
J1619 (Earrings) – These earrings offer versatility like no other, and each cushion solitaire is certified by GIA (Gemological Institute of America). You can wear them as elegant studs, a perfect choice for everyday glamour. Alternatively, for special occasions, you have the option to attach the elegant dangling earring jacket, instantly transforming the look into a statement piece that radiates sophistication.
J1903 (Necklace) – Crafting this necklace was a labor of love, as we collected and matched each cabochon emerald to create a masterpiece of unmatched beauty. We ensured that every emerald possesses the same shade of green and adheres to the proposed measurements for a balanced design. The center piece of this necklace holds an additional surprise – it's detachable. This means you can wear it as a ring, showcasing the enchanting emerald as a statement piece on your hand. Moreover, it can also be worn as a pendant, which allows you to slide a chain through it, making this necklace a versatile and timeless addition to your Jewellery collection.
5.     The concept of hospitality and white-glove customer service sets Infiniti Jewels apart. Can you provide insights into how you create unforgettable experiences for your customers beyond the transactional aspect of luxury?
In addition to our fine jewellery offerings, we've established a sister brand that specializes in crafting bespoke experiences for our valued clients. Whether it's planning an enchanting proposal, celebrating a milestone anniversary, or arranging a dream honeymoon, we curate tailored experience packages that our clients can readily select. We understand that these moments are special and deserve to be celebrated in a truly unique and memorable way. Our team of experts collaborates with clients to design bespoke experiences that cater to their desires, ensuring every detail is meticulously accounted for.
To enhance these experiences further, we've cultivated strong partnerships with a select list of hotels, fine dining establishments, and lifestyle activity providers. Through these exclusive collaborations, we offer our clients access to deals and experiences that they won't find elsewhere. It's our way of adding an extra layer of luxury and exclusivity to their special moments.
Moreover, what sets us apart is our dedication to education. We firmly believe that an informed customer is an empowered customer. When clients step into our showroom, we don't just focus on making a sale, we prioritize imparting knowledge and transparency. Our team of experts provides accurate insights about gemstones, emphasizing their value and investment potential. We invest significant time in educating our clients so they can make confident, well-informed decisions rather than rushing into a purchase. This level of transparency and commitment to education is a testament to our genuine desire to provide the best possible experience for our clients.
6.     What can customers expect when they visit Infiniti Jewels, both in terms of the experience and the range of jewelry and gemstones available?
When you visit Infiniti Jewels, here are three key elements that customers can anticipate:
Immersive Educational Experience: A visit to Infiniti Jewels is not just about purchasing jewellery; it's an opportunity to embark on an enriching educational journey. Our dedicated team of experts is committed to providing an in-depth and personalized educational experience. They will guide you through the fascinating world of gemstones, explaining the nuances of quality, value, and investment potential. This knowledge empowers you to make well-informed choices, ensuring your jewellery selection aligns perfectly with your preferences.
Rare Gemstones in Bespoke Jewellery: At Infiniti Jewels, we showcase an extraordinary range of rare and high-quality gemstones. From the timeless elegance of white diamonds to the enchanting allure of coloured diamonds and gemstones such as emeralds, tanzanite, sapphires, and more, you'll have the privilege of exploring a breath-taking array of choices. These exceptional gemstones are carefully curated and integrated into bespoke pieces of fine jewellery. Each creation is a testament to our commitment to craftsmanship, precision, and the highest standards of quality.
Exclusive Champagne: As a special touch, we offer a brand of champagne that is only exclusively served in our showroom. This champagne experience is designed to elevate your visit and make it even more memorable.
7.     In the world of luxury jewelry, personalization is often highly valued. How does Infiniti Jewels cater to customers looking for truly one-of-a-kind, personalized jewelry pieces, and what is the process behind creating these bespoke masterpieces?
At Infiniti Jewels, we have a diverse selection of diamonds and colour gems in all shapes and sizes.
Step 1 – Consultation: First, we arrange for a free consultation between you and one of our experts. With bespoke customisations, we always start with a budget so that we can recommend the most suitable gemstone in your preferred colour and quality, and then tailor a piece to your style and specifications.
During the meeting, important factors such as preferred diamond sizes and metal finishes will be discussed.
Step 2 – Design & 3D Render: Feel free to bring along any materials that will help us better understand your ideal design. After obtaining visual inspirations and finalizing the small details, we will be providing computer-aided designs. These 3D images represent the actual product with very high accuracy. In this stage, we will wait for any questions, and feedback and make adjustments accordingly. A price quotation will also be provided for final approval.
Step 3 – Sit back & wait for your piece: Upon confirmation of the design, a deposit will be required to commence production. All you have to do next is sit back and relax! The crafting process normally takes 6 to 8 weeks from the point of design confirmation.
8.     Infiniti Jewels is known for offering investment-grade gemstones. Could you share some insights into the types of rare and valuable gemstones you specialize in and what makes them unique as investment pieces?
We specialize in investment-grade gemstones, including emeralds, pink diamonds, and yellow diamonds, which offer significant investment potential and have demonstrated consistent appreciation over recent years.
Emeralds, with a focus on Colombian Muzo emeralds, represent a cornerstone of our expertise. The Muzo mine is renowned for producing top-tier emeralds, and the mine is now shut, resulting in a diminished supply. This scarcity contributes to the sustained value of Muzo emeralds.
Argyle pink diamonds exhibit a similar high demand, having maintained a historical track record of never experiencing price decreases. This makes them an outstanding choice for diversifying your investment portfolio.
Yellow diamonds have steadily risen in price, indicating their investment potential. Less than 1% of colour diamond production falls into the investment-grade category, with yellow diamonds being an especially appealing option. They are reasonably priced and offer broader accessibility to consumers seeking to invest in colour diamonds.
Furthermore, a significant distinguishing factor is the quality of our colour diamonds. While more than 70% of colored diamonds in the market have clarity ratings of SI1 and below, at Infiniti Jewels, over 90% of our colour diamonds are VS2 clarity and higher. This emphasis on superior quality ensures that our clients invest in gemstones of the utmost value and beauty.
9.     In a market where jewelry and gemstones can be highly competitive, what do you believe are the key factors that distinguish Infiniti Jewels and make it a go-to destination for discerning patrons worldwide?
The Versatility of our Fine Jewellery: Discover a new dimension of fine jewellery with our brand, where versatility is key. Imagine a necklace that seamlessly transforms into a stunning ring or earrings that adapt to your mood and outfit.
Each detachable element is meticulously designed to ensure comfort, wearability, and a seamless transition between different configurations. From daytime chic to evening glamour, our multi-way designs empower you to accessorize effortlessly. With our versatile jewellery, you're not just buying a product; you're investing in a dynamic accessory that adapts to your changing life.
Bespoke Customization: At Infiniti Jewels, we don't just create ready-to-wear fine jewellery, we bring your vision to life. Our dedicated team will adeptly guide you through the entire process, from conceptualization to the final masterpiece, ensuring that your specifications are seamlessly integrated into the finished piece.
Strong Supply Chain: Our journey of 40 years has seen us cultivate a web of trusted suppliers, each chosen with precision. We understand that the foundation of superior craftsmanship lies in sourcing the finest materials. Through years of collaboration, we've nurtured relationships that guarantee authenticity and excellence in production.
Value Adding Through Unique Event Experiences: Our commitment to offering value goes beyond exquisite pieces; it extends to crafting unforgettable moments through unique event experiences. We partner with experts in different fields who share our passion for excellence. Together, we curate private events that blend artistry, and emotion – transforming our showrooms into spaces where new connections are forged.
For more information visit: infinitijewels.com.sg