Navigating Luxury Waters: An Exclusive Conversation with John Bush, Co-Founder of Sunseeker Gulf
26th October 2023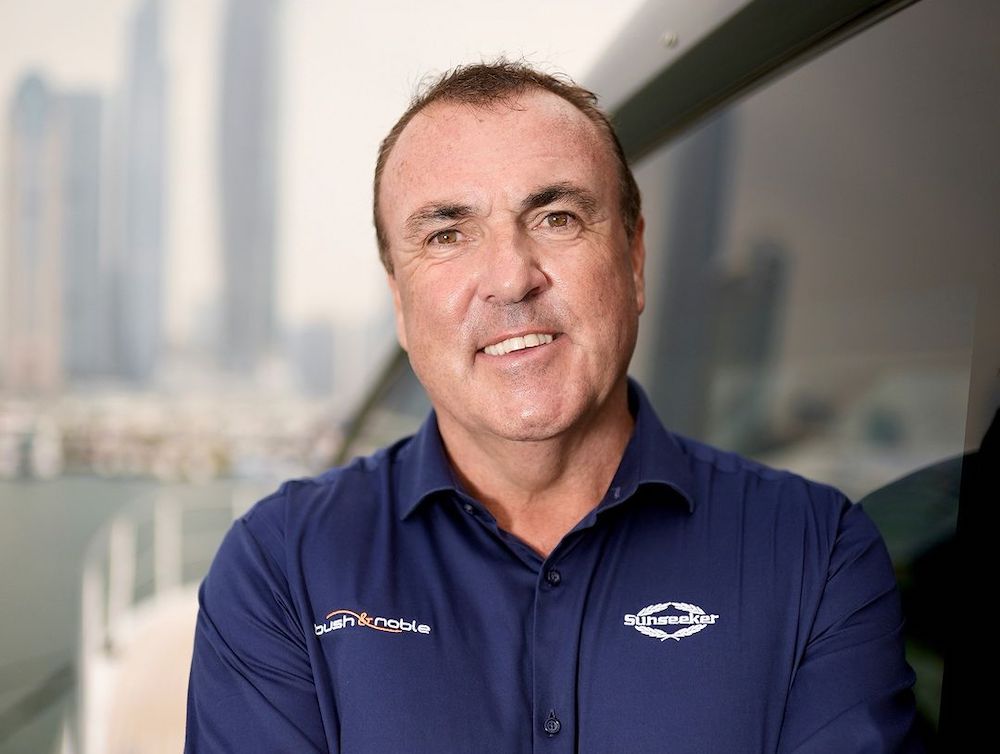 Step aboard as we embark on a journey into the world of luxury yachting with John Bush, the Co-founder of Sunseeker Gulf. Nestled in the vibrant heart of Dubai, Sunseeker Gulf has rapidly risen as the Gulf's official distributor of Sunseeker Yachts, bringing unparalleled elegance and innovation to the shores of the United Arab Emirates and the rest of the Gulf regions. With their recent partnership with The Luxury Network UAE, we sat down with John Bush to uncover the essence of Sunseeker Gulf's luxury offerings and explore the remarkable personal journey that has propelled him to the helm of this prestigious brand. Join us as we delve into the waves of opulence and craftsmanship that define Sunseeker Gulf's legacy in the world of luxury yachting.
1. To begin, could you provide us with an overview of Sunseeker Gulf, including its mission, values, and what distinguishes it as an official distributor of Sunseeker Yachts in the Gulf region?
Sunseeker is the world-leading luxury motor yacht brand that has been creating exquisite boats since its inception in 1969, founded by the visionary brothers Robert and John Braithwaite.
Our mission at Sunseeker Gulf is to offer clients in the UAE, Saudi Arabia, Bahrain, Qatar, Oman, and Kuwait luxury and performance on the water. Our core values revolve around expert craftsmanship, meticulous attention to detail, and a steadfast commitment to hand-built, hand-finished excellence in an age where digital production and automation are prevalent.
2. Sunseeker Gulf serves an upscale clientele across several countries in the Gulf region. What specific aspects of the yachts do you think resonate most with the discerning tastes of your customers?
Our clients in the Gulf region are drawn to Sunseeker yachts for many reasons.
Firstly, it's the uncompromising quality and craftsmanship that stand out. Each Sunseeker yacht is a testament to expert design and meticulous attention to detail, ensuring a level of luxury that meets the highest standards.
Our yachts offer exceptional performance, which resonates with customers who appreciate speed and agility on the water. Whether it's the thrill of cruising or the ability to reach secluded destinations swiftly, Sunseeker yachts deliver an exhilarating experience.
The timeless and elegant design of our yachts is a significant draw. The sleek, modern aesthetics combined with comfortable and well-appointed interiors appeal to the sophisticated tastes of the region.
Our commitment to customization allows each customer to tailor their yacht to their unique preferences, creating a truly personalized and exclusive ownership experience.
3. Sunseeker is a brand with a rich legacy. Can you give us some insights into the history and heritage of Sunseeker, and how it has contributed to the brand's reputation for luxury and craftsmanship?
It is not just the technical specifications that set Sunseeker apart. It is the intangible qualities and extensive history that make it truly unique. There is a sense of heritage and tradition that imbues every yacht with a timeless elegance.
Sunseeker's rich history, dating back to its founding by the Braithwaite brothers in 1969, has been instrumental in shaping its reputation for luxury and craftsmanship. The brand's unwavering dedication to hand-built, hand-finished boats has been a hallmark of its heritage, ensuring meticulous attention to detail in every yacht produced.
Sunseeker's legacy is further defined by its pioneering spirit in design and technology, consistently pushing the boundaries while maintaining a timeless elegance.
Sunseeker has appeared in 7 James Bond films, including 'Quantum of Solace', with the 37 Metre Yacht, Superhawk 43, Sovereign 17, and a cameo appearance from Robert Braithwaite.
4. The commitment to quality and innovation is a hallmark of Sunseeker. Could you elaborate on some of the recent innovations or advancements in design and engineering that have set Sunseeker apart in the leisure marine industry?
Recent advancements include the integration of cutting-edge materials like carbon fiber, enhancing both strength and performance while reducing weight.
Sunseeker has also embraced hybrid and electric propulsion systems, reflecting its dedication to environmentally conscious boating solutions.
Additionally, the brand has introduced innovative design concepts, such as open-plan layouts and expansive glass surfaces, to create more spacious and visually stunning interiors, further elevating the onboard experience for owners.
Sunseeker Gulf offers Gulf-spec air conditioning systems – the advanced climate control technology adjusts seamlessly to external conditions, providing an optimal temperature throughout the yacht no matter the harsh weather conditions across the region.
These advancements showcase Sunseeker's continuous pursuit of excellence and its position at the forefront of yacht design and engineering.
5. Sunseeker offers a diverse range of yacht collections, from super yachts to sports yachts. Can you highlight a few key models or series that have been particularly well-received by your customers, and why?
Sunseeker's extensive selection of yacht collections has earned considerable praise from our valued customers, partners, and prospective clients alike.
Following the launch of the Sunseeker 74 Sport Yacht XPS at the Dubai International Boat Show 2023, this 22.8-metre model has continued to make a lasting impression in the Gulf region. A limited edition model, this yacht was designed with unique GCC specifications, state-of-the-art navigation systems, and climate control systems, to offer the ultimate yachting experience in the Persian Gulf and beyond.
Since our debut, we've also introduced the all-new Sunseeker 65 Sport and the Manhattan 68 Pacific to the market, carefully selected to cater to the discerning tastes of our clients in the GCC region.
The multi-award-winning 65 Sport was designed for thrill seekers; the onboard experience is one of pure adrenaline, akin to driving a high-performance convertible supercar.
The Manhattan 68 Pacific fundamentally offers versatility for its owner. Known for its contemporary design, spacious interiors, and flybridge areas, the Pacific 68 offers an exceptional amount of space for a boat of this size – making it the perfect family yacht.
Sunseeker's extensive range fulfills the diverse preferences of the Gulf region in the luxury yachting market.
6. Sunseeker Gulf is not just about selling yachts; it is about offering an exclusive experience. Can you provide examples of the personalized services and guidance that your seasoned team provides to yacht owners and enthusiasts?
Sunseeker Gulf takes pride in offering an exclusive experience beyond yacht sales. Our team provides personalized services such as bespoke yacht customization, assisting owners in tailoring every detail to their preferences, from interior design to onboard amenities. We also offer expert guidance on yacht maintenance, crew training, and seamless yacht management, ensuring that our clients enjoy a worry-free and exceptional yachting lifestyle.
7. Building, buying, selling, and owning a yacht can be complex. How does Sunseeker Gulf simplify and guide clients through each step of their yachting journey?
Sunseeker Gulf simplifies the entire yachting journey for clients by offering comprehensive support at every stage. Our team assists with yacht selection and financing options for specific models like the Sunseeker 74 Sport Yacht XPS. We also provide guidance on registration, insurance, crew recruitment, and ongoing maintenance, ensuring a smooth and enjoyable yachting experience from start to finish.
8. Looking ahead, what are your aspirations for Sunseeker Gulf, and how do you envision the company's growth and impact in the luxury yachting market?
Our aspirations for Sunseeker Gulf are to solidify further our position as a premier player in the luxury yachting market in the Gulf region. We envision continued growth by expanding our product offerings, enhancing our service portfolio, and strengthening partnerships with clients. Ultimately, we aim to set new standards for luxury and excellence in yachting, becoming the go-to choice for discerning enthusiasts and further elevating the Sunseeker brand's presence in this dynamic and exciting market.
9. Lastly, could you kindly illuminate us with the captivating story of your personal voyage and your professional background within the world of the luxury yacht and leisure industry?
I was born in Poole, Dorset, a picturesque coastal town renowned for its association with Sunseeker yachts. Throughout my formative years, I became accustomed to witnessing the splendour of these magnificent superyachts and various other vessels gracing the quaysides of Poole.
At the time, the notion of pursuing a career as a yacht broker specializing in Sunseekers or any other type of boat had not crossed my mind. It was only later in my professional journey that I made the deliberate decision to immerse myself in the marine industry as a yacht broker.
My initial foray into this realm began with the sale of sailing boats in Weymouth. Subsequently, I relocated to Southampton, where I became associated with a company involved in the distribution of Azimut Italian yachts. It was during this period that Sunseeker extended an invitation for me to join their team in 2005.
While based in the United Kingdom, my role frequently entailed extensive travel, with visits to Italy, France, Spain, and the Balearic Islands. In 2007, I seized the opportunity to relocate to the South of France, where I spent a year working in Monaco and along the illustrious Côte d'Azur.
In 2008, I was recruited by a company based in Dubai, which, at that time, served as the authorized distributor for Azimut yachts within the GCC (Gulf Cooperation Council). My mission involved facilitating the establishment of an office in Abu Dhabi. I dedicated a year to this endeavour before transitioning to a period of consultancy work, specializing in the Superyacht and Megayacht sectors, encompassing both brokerage and marina-related projects.
In 2012, my trajectory took a pivotal turn when Brett Noble and I conceived the idea of launching Bush and Noble, a boutique yacht brokerage and consultancy firm. Our primary focus revolved around providing comprehensive advice on yacht acquisition, sales, ownership, and a highly personalized service catering to the unique needs of yacht owners.
Over the years, Bush and Noble evolved into the largest yacht brokerage company in the region, offering a wide array of services. In addition to our brokerage activities, we undertook distributorship roles for various manufacturers. In a significant milestone, at the close of 2022, we secured the coveted Sunseeker distribution agency for the GCC, solidifying our position as a prominent player in the luxury yacht industry.
For more information visit; sunseekergulf.com