Unveiling Hortman Clinics: A Conversation with the Founder, Anastasiia Hortman
20th September 2023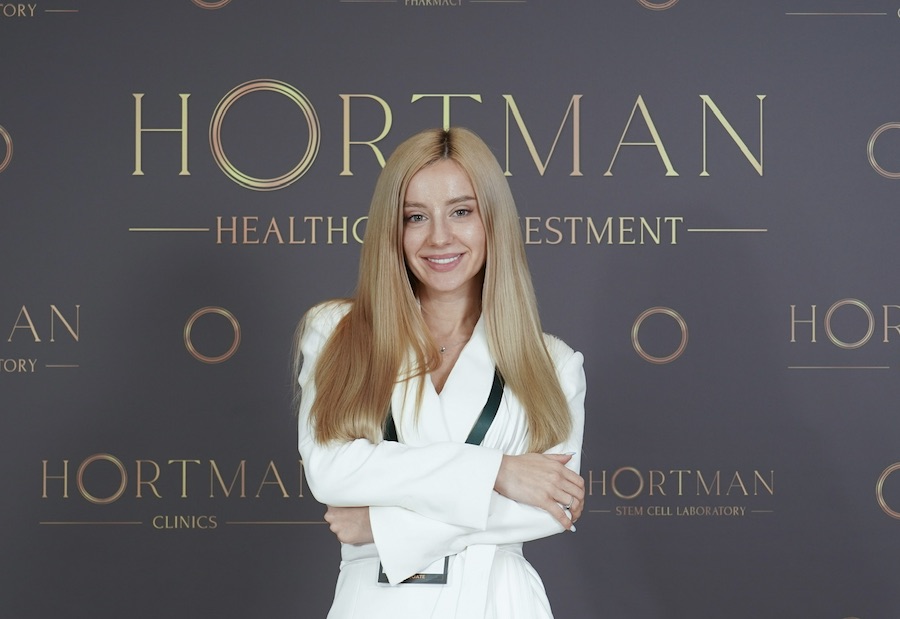 Nestled in Dubai, Hortman Clinics is a beacon of excellence in beauty, wellness, and healthcare. Committed to personalized care and a comprehensive range of services, the clinic is redefining healthcare in the region. In this exclusive interview, we learn about the clinic's mission, individualized care, and the luxury-medical blend at Hortman Clinics from none other than the clinic's founder, Anastasiia Hortman. Discover how Hortman Clinics is reshaping the journey to beauty, wellbeing, and health.
---
1. Can you provide an overview of Hortman Clinics and its mission in the fields of beauty, wellness, and health?
Hortman Clinics is a cutting-edge healthcare facility that specializes in elevating beauty, wellness, and health. We seamlessly combined the principles of hospitality with medical excellence to ensure an immersive experience for our guests. From the inviting clinic ambiance combined with unique fragrances, special coffee, healthy drinks, and fresh flowers, every detail is meticulously crafted. Our mission is to empower individuals to live a healthier, more balanced, and elevated life and to look and feel their best. We believe that beauty is deeply connected to well-being, and we strive to promote both physical and emotional health in all our patients by offering a comprehensive range of services, from cosmetic procedures to wellness treatments.
Additionally, we have Hortman Pharmacy, which is an integral part of Hortman Clinics and is committed to personalized care and wellbeing. We offer a wide range of products, including cosmetics, health supplies, prescription and over-the-counter medications, vitamins, supplements, and some food items. These diverse offerings align with our mission and distinguish us in the healthcare landscape.
2. Hortman Clinics has chosen Dubai as its base. Could you explain why Dubai was selected, and how does this location influence the clinic's approach?
Dubai was selected as our base due to its strategic location. Being in Dubai allows us to gather a diverse pool of talent and resources, fostering a culture of innovation and excellence. The city's reputation as a magnet for elite individuals from around the world underscores our commitment to meeting and exceeding their expectations. In essence, our choice of Dubai as our base not only reflects our commitment to global excellence but also ensures we are ideally positioned to deliver world-class services in the beauty and wellness sector.
3. Hortman Clinics offers a wide range of services, from cosmetic surgeries to IV therapy. Can you elaborate on the key services and specialties that the clinic excels in?
Firstly, I would like to mention that we are privileged to have "The Queen of Lasers," Rebecca Treston, as part of the Hortman family—a renowned laser expert with an impressive 25 years of experience. Her method of combining laser and energy-based treatments is truly one-of-a-kind.
We constantly stay up to date with the latest aesthetic trends and, in parallel, focus on the field of Regenerative Medicine with the UAE's first GMP laboratory that is coming soon. Our future endeavors include the development and research of stem cell products, further distinguishing us in this field.
4. Can you describe the atmosphere and ambiance that patients can expect when they visit Hortman Clinics?
We welcome our guests in a peaceful and luxurious environment, and all the details were designed to look after their wellbeing and comfort. We call it "The Hortman Spirit" which states: "You will always feel at home, understood, and inspired". We've had this idea from the start, and it goes for everyone who comes here, whether you're a visitor or a team member.
5. How does Hortman Clinics prioritize the unique aesthetic and health goals of each patient? Could you provide an example of a personalized treatment plan?
We take a personalized approach to every patient's needs. Our doctors conduct thorough consultations to understand their goals and concerns. It is also important to set realistic expectations about the desired outcomes of the treatment. Although our medical team has developed unique protocols for each concern, the treatment plan is always altered. For instance, if a patient comes to us wanting to reduce wrinkles, it doesn't mean one-size-fits-all Botox. Instead, the doctor will look at their skin type, age, and the kind of wrinkles they have. Then, we create a treatment plan just for them. It might involve a mix of treatments where injectables are combined with technologies and a personalized skincare regimen.
6. Could you share some success stories or testimonials from patients who have experienced remarkable transformations at Hortman Clinics?
I've witnessed a lot of inspiring stories from patients who have undergone remarkable transformations with us. I would like to highlight our dental department here, particularly the incredible work of our cosmetic dentist, Dr. Kinan Bonni.
One of our patients, a woman who had spent 20 years working in a chemical factory, faced the devastating consequence of having to remove all her teeth due to the damage caused over the years. It was a challenging situation, but Dr. Kinan Bonni took on this special case with dedication and expertise. Through a series of treatments, including the placement of new dental implants, Dr. Bonni was able to provide her with a brand-new smile. The impact of this transformation went beyond just aesthetics; she absolutely excelled in self-confidence and overall quality of life. But of course, this success story is just one example of a life-changing transformation.
7. How do technology and innovation play a role in the services provided by Hortman Clinics, especially in areas like cosmetic surgeries and pro-aging treatments?
Technology and innovation are integral to our services. In my opinion, the key is to opt for the best without compromising quality with more affordable alternatives available in the market. We constantly invest in the newest equipment and stay updated on the latest advancements in the field. This allows us to offer safer, more effective, and less invasive procedures, ensuring the best possible results for our patients.
8. What is the long-term vision for Hortman Clinics, and how do you plan to continue redefining the world of beauty, wellness, and health in the region?
What Hortman Clinic does is bring together the best in the field: innovations, research, technologies, and the most passionate professionals from around the world. Our long-term vision for Hortman Clinics is to expand in the region and remain a pioneer in the industry, consistently raising the bar and setting new standards in beauty, wellness, and healthcare.
9. Lastly, how can individuals interested in your services connect with Hortman Clinics, and what steps should they take to begin their unique journey towards a better self?
Individuals interested in our services can easily connect with us at +971 4 566 2615 or through our website, hortmanclinics.com. Our customer service team will be happy to guide them through every step.