Welcome to the Art of Time-Keeping. Time is Different for those who Dare
15th April 2023
AN INTERVIEW WITH MAHMOOD QANNATI – FOUNDER, QANNATI OBJET D'ART – PARIS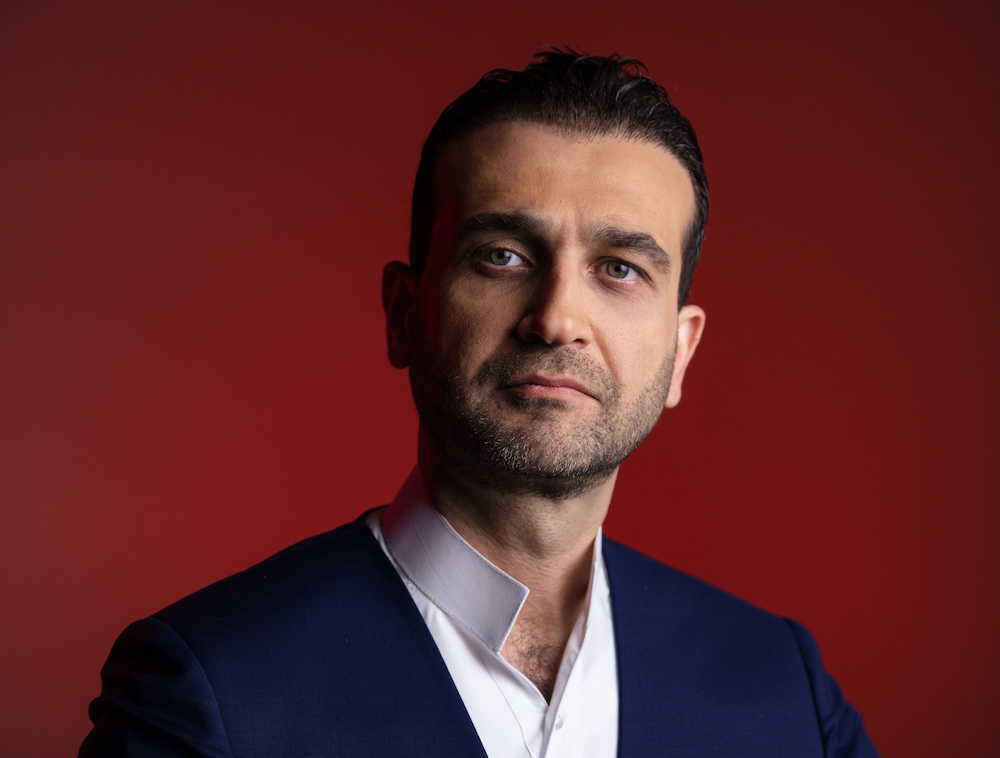 Qannati Objet d'Art has been welcomed by The Luxury Network UAE as one of the latest members. We had the privilege to interview Mahmood Qannati, the Founder of Qannati Objet d'Art. He is an exceptional personality who is leaving an indelible mark in the luxury industry with his exceptional timepieces and wearable art pieces that combine traditional craftsmanship with modern design.
1. WHAT MOTIVATED YOU TO ESTABLISH YOUR OBJET D'ART COLLECTION AND HOW DO ITS FUNDAMENTAL INSPIRATIONS RELATE TO YOUR BRAND'S IDENTITY AND SIGNIFICANCE TO YOU?
Ans. I have always been fascinated by watches. Loved them on my wrist. Never cared so much about the time-telling part. In fact, when I see the seconds moving, non-stop, I feel anxious, I feel late, and I also feel the time is passing by fast like never before. Therefore, I decided to freeze time (or time-keeping). This was the very beginning of Qannati. I froze precious and dear moments in my heart so I can go back to these safe and peaceful moments any time I like.
With this principle in mind, I decided to build a brand that specializes in the art of time-keeping rather than time-telling. We help customers choose a moment they treasure from their lives, and we transform that moment into a personalized precious art object that you can wear on your wrist. We choose gemstones and other exotic materials that bring your moment to life. It was 2018 and I was just blessed with my third child. It was a moment of reflection and realization. At a glance, I traveled through the past, present, and future reflecting on my life and whether I have lived life to the fullest, and whether I am leaving behind a legacy. I immediately thought about my passion for horology, art, and history. It started as a passion project.
Moreover, I was long fascinated by the Epic of Gilgamesh, a tale that poets and historians alike consider to be the source of foundational heroic sagas like the Homeric epics. One day, strolling through the Mesopotamian collections of the Louvre museum, I discovered the sculpted figures of formidable kings, flower motifs carved into ornaments worn on both wrists. The symbol, known as the "Flower of Life," was reserved for legendary kings of Mesopotamia and their "chosen" ones, as an emblem of their divinity and power. I found a great resemblance between my project and what I was trying to accomplish. I realized that I am not inventing something new. I am bringing it back to life after more than 5000 years.
That discovery sparked in me the desire to launch Qannati Objet d'Art and make it bigger than just a passion project. I felt the universe was guiding me through it and sending me signals along the way. My objective became to revive the ancient tradition of wearing symbolically powerful objects on both wrists by the chosen ones of our modern times. I am very proud that thousands of years later, I bring back these legendary objects through 2 types of masterpieces; Eternity Bracelets and Quantum Timepieces. A person may decide to wear them both, one on each wrist like the Mesopotamian Kings, or one at a time or even decide to give one to a partner and celebrate a shared moment.
2. WHAT NARRATIVE OR MESSAGE DO YOU INTEND YOUR PIECES TO CONVEY?
Ans. We are not jewelers. We are not watchmakers. We are storytellers. If I have to choose one industry to put Qannati in, that would be Fine Art. Many brands claim to master the art of watchmaking or jewelry making. But is it truly an art? Shouldn't art be about the transformation of messages in multi-faceted ways? Other brands advertise that their products will carry your legacy to generations to come. While I truly admire the long history of these brands, I don't see how selling a series of the same product to different people helps any legacy.
We are in the B2B business. By B2B, I do not mean business-to-business, I mean brand-to-brand. For us, every person is a brand and must be treated as a brand. I cannot sell the same product to 2 different people. Each person is different. Research shows that personalization is the future of everything. Moreover, men's desire for jewelry is growing. That is why we see the sales of unisex jewelry on the rise. It is because men are buying more and they do not have enough choices to choose from. Also, men are very sentimental with their jewelry. They also prefer their wrists as an asset to show who they truly are.
3. CAN YOU PROVIDE SOME INFORMATION OR DETAILS ABOUT THE ARTISANS OR CRAFTSMEN WHO ARE INVOLVED IN THE PRODUCTION PROCESS OF YOUR PRODUCTS?
Ans. I collaborated with two of France's most exceptional master craftsmen to turn my vision of unique wearable art pieces into reality. Frédéric Mané, a jewelry "conceptor" and designer, who was appointed as the Artistic Director of Qannati, and Jothi-Sèroj Ebroussard, a skilled jeweler and sculptor, have joined the team. Their impeccable "Métiers d'Art" sensibility has been brought to Qannati's masterpieces, adding a diverse range of perspectives to their work that challenges conventions.
For over two decades, French master designer Frédéric Mané has used his immense talent to create outstanding objects for the world's most renowned luxury brands and important high jewelry houses of the Place Vendôme. Frédéric Mané's Parisian design studio is dedicated to creating a wealth of luxury objects, among them precious watches and bespoke jewelry. His extraordinary objects have earned him the title of "Lord of Jewelry Design" on the Place Vendôme. His work has been widely exhibited around the world, and he regularly travels to meet clients and the collectors of his custom-made creations.
As Qannati's Artistic Director, Frédéric Mané has conceptualized the stories inside each unique piece, creating a precious stage for each under the sapphire dome, to capture the very essence of a chosen narrative in precise technical details and a masterful finish.
Jothi-Sèroj Ebroussard, known as "Jothi," founded his company shortly after obtaining a degree from a prestigious college of applied arts, l'École Boulle of Paris. A precocious artist, Jothi became a frequent collaborator with the high jewelry maisons of the Place Vendôme. An artist with a passion for sculpture, Jothi's preferred artistic expression is a miniature sculpture.
Marrying his Parisian sensibility with a taste for the mystical and the exotic, Jothi brings an unmistakably authentic touch to his unique creations for Qannati. From precious stones to the range of materials that he transforms with his boundless creativity, Jothi has an unrivaled eye for detail, enriching his creative imagination with nature's elements.
4. HOW DOES YOUR COLLECTION STAND OUT FROM OTHERS IN TERMS OF ITS DISTINCTIVE FEATURES?
Ans. In March 2019, I was on my way to meet Frederic Mane and Jothi Seroj for the first time to kick-start the work on the new collection. Prior to that meeting, I stopped by BaselWorld (the last one before its death!). Again, it was very overwhelming at first. I wondered how I was supposed to compete against all these legendary giants. But soon I realized how advanced Qannati is. As much as I love this industry, I do not agree with its norms and principles. I do not think its players have adapted to modern times.
So what makes Qannati unique is firstly our attention to detail. Our craftsmanship is breathtaking. From Frederic's ability to transform a client's life story into a piece of art, the search for the right gemstones and exotic materials, to Jothi's delicate craftsmanship. You end up having your personal museum on your wrist. In Qannati, there is no judgment as to what a customer wants. It is much more than just the bling. It's the story the customer wants to tell and leave behind.
Qannati brings a deep philosophy with its brand. It is more than just a seller of bracelets and watches. The brand brings back ancient knowledge. The ancient ones believed in the power of spirituality versus the tangible world. They were guided by the symbols, numbers, and patterns. They believed that the Flower of Life is the mesh of the universe, its sacred geometry is the pattern of the universe and mathematics is the language of the universe. Qannati is inspired by all of that. We take ancient knowledge seriously and embed it in everything we do. Our design guideline follows the platonic solids of the Flower of Life.
The number of pieces (13) follows the number of circles in the flower of life. The number of themes (7) follows the number of circles in the circle of life. Nothing is a coincidence. There is a reason and a story behind everything in Qannati. This attention to detail is unparalleled in the industry and it comes organically for us in Qannati. It is not hard to work along the same wavelengths of the universe.
5. CAN YOU PROVIDE SOME INFORMATION OR DETAILS ABOUT YOUR INITIAL OR DEBUT COLLECTION?
Ans. Four years in the making, Qannati's debut collection "Celebration of Time" consists of 13 beautifully handcrafted objects designed to be worn on the wrist. Under a sapphire glass dome, each piece features a unique, miniature "métier d'art" universe that uses a combination of precious stones and exotic materials to narrate, through miniature sculpted pieces, a chapter in the millenary journey of mankind. Each universe is designed to appeal to, and echo, what I call "the dreams and aspirations of the wearer." Each, whether purely ornamental or functioning as a timepiece, is a masterpiece of craftsmanship that bridges the aesthetic divide between art, jewelry, and timepiece.
This debut collection comprises 7 Eternity bracelets and 6 Quantum Timepieces, each complementing the other as they may be worn separately or together, one on each wrist like the ancient kings of Mesopotamia.
There's the Big Bang condensed into a bracelet, and watches celebrating dinosaurs, gladiators, motor racing, and space travel. In regards to the materials, fossilised dinosaur bones, meteorite rocks, parts from F1 cars and Discovery Space Shuttle, ancient Roman coins, carbon fibre, Ethiopian opal cabochons, raw diamond slices, natural freshwater pearls, Oregon sunstone, agate, and ruby, to name a few. In addition, there are some rarer and more unusual minerals, like Larimar (the blue variety of pectolite found in the Dominican Republic), rainbow ammolite from fossilised ammonites, and peridot that's still embedded in its volcanic lava matrix.
The collection tells each of its stories in two parts: the Eternity Bracelet and the Quantum watch. These complementary pairs, six in total, can be worn together in true Mesopotamian fashion, one on each wrist or worn alone. Some remarkably diverse leathers are used for straps, from sea bass and frog to python, stingray, and alligator. And let's not forget another unique element – the "buckle universe" – which transforms the clasp of each piece into a decorative element set with a meteorite fragment, racing car carbon fibre, aluminium mesh, and mother of pearl, among other materials depending on the inspiration of the watch face. In summary, each piece tells a story in three folds, the main universe, the strap, and the buckle universe.
The Gladiators Eternity bracelet, for example, houses a miniature of the great Italian Colosseum under sapphire crystal glass with an authentic Roman coin from 124 BC used to decorate the buckle. The other half of this story – the Gladiators Quantum watch – features a softened octagonal titanium case coated in gold PVD, and adorned with a Sea bass skin leather strap, rough diamonds, and bronze fighters locked in battle on the dial.
The final (or first) element of the Celebration of Time collection is the thirteenth piece, which Qannati describes as an "iconic masterpiece". It will forever remain in the Qannati private collection. Titled Alpha, this Eternity bracelet tells the story of the birth of the universe with a black opal meteorite crashing into raw diamond slices, natural magnetic sand, round, and baguette-cut black diamonds and dusted with meteorite powder. This cosmic event is set in a domed carbon fibre case and finished with a raw diamond-set bracelet. There is also a hidden element that makes this bracelet truly unique; a special magnet changes the structure of the magnetic sand and modifies the internal design without opening the dome.
The 6 Eternity Bracelets, each representing a chapter of the greater spectrum of Time, from the beginning of the Universe to the conquest of Space, include pieces titled the Jurassic Eternity Bracelet, the Gladiators Eternity Bracelet, the First Civilization Eternity Bracelet, the Pearl of the Gulf Eternity Bracelet, the Monaco Eternity Bracelet and the Space Conquest Eternity Bracelet.
The 6 Quantum Timepieces include 6 unique models called The Jurassic Quantum, the Adam & Eve Quantum, the Gladiators Quantum, the Al-Fallah ("prayer and worship" in Arabic) Quantum, The Monaco Quantum, and the Space Conquest Quantum.
6. WHAT IS THE CREATIVE INSPIRATION AND MESSAGE BEHIND YOUR JEWELLERY MASTERPIECES, AND CAN YOU PROVIDE INSIGHT INTO THE PROCESS OF CREATING A PIECE, INCLUDING THE AVERAGE TIMEFRAME FOR PRODUCT DEVELOPMENT? ADDITIONALLY, WHY DID YOU CHOOSE THIS PARTICULAR GENRE OF JEWELLERY DESIGN?
Ans. Firstly, I would like to mention that we create collections alongside bespoke orders. The process of producing collections differs from the bespoke process. For our collections, we always go back to the Qannati Spectrum. Qannati uses the mystical power of the Flower of Life and its sacred geometry in its designs, engraving it in its story, through a unique composition called the Qannati Spectrum. It combines three states of being: Past & Future, Matter & Consciousness, and Fiction & Reality. It is an immortal pattern that guides everything Qannati creates. So our collections always follow one of Spectrum's universes.
With a bespoke order, we meet a client, and through a process, we call "art therapy", we help the client identify a moment in his/her life that he/she wants to freeze and transform into a personal art object. This process is managed by our jewelry "conceptor" and designer Frédéric Mané, named Artistic Director of Qannati. He then creates a hand-drawn sketch of the client's personal art and identifies the gemstones and materials to be used. Once the client agrees, Jothi-Sèroj Ebroussard, our master jeweler and sculptor, brings his impeccable "Métiers d'Art" sensibility to and converts the sketch to a Qannati masterpiece.
Our collections are born out of my dream to create masterfully crafted ornaments that fill a unique niche in the global luxury market. Therefore, we take all the time needed to create this. There is no compromise in anything we do. There is a story to be told behind the brand and each of its masterpieces. So the process takes a long time. We kept track of every day in the process.
On average, each piece took more than 800 days to complete, from its ideation, sketch, design, technical mapping, gemstone sourcing, and hand craftsmanship.
Study shows that the demand for personalization is growing at a rapid pace. This means that we are future-ready. Secondly, during the pandemic, the supply of luxury products reduced drastically.
Whether planned or not, this did not resonate well with the collectors. Why someone should wait for months or years and pay a gray market price for a piece that is not even one-of-a-kind? All this has helped independent jewelry and watchmakers because they cater to individual needs.
Our pieces are composed of original handmade objects that will stand out in the eyes of an elite international clientele who appreciates the superlative craftsmanship of timeless ornaments, meticulously crafted and always one-of-a-kind. We believe in exclusivity, which is why each masterpiece is unique because each life experience is unique.
7. DO YOU PRIORITIZE SHOWCASING UNIQUENESS AND ORIGINALITY IN YOUR CREATIONS BY USING A VARIETY OF UNCONVENTIONAL MATERIALS?
Ans. I pride myself on creating this way. Every colour, shape, and design within the Qannati collection is made of a gemstone or an exotic material. We don't use enamel or paint. We find the gemstones and materials that complement and complete the masterpiece's story. Nothing in Qannati is random or just for the beauty of a piece.
In the field of high jewellery, brands find rare gemstones, and then they create masterpieces around these gemstones. We do the complete opposite. We design the masterpiece and then search the world to find the right gemstone or material, whatever it is and wherever it is.
We participated in many auctions, travelled the world, and even mined a few gemstones ourselves in exotic places. We worked with delicate materials that broke easily and had to repeat the workmanship a few times till we got it right. This happened a lot with the agate used in the Jurassic Quantum, for example.
8. WHAT IS YOUR APPROACH TO ACHIEVING A BALANCE BETWEEN FORM AND FUNCTION IN YOUR WATCH DESIGNS, AND HOW DO YOU MAINTAIN THE QUALITY AND ACCURACY OF THE WATCH MECHANISM WHILE ENSURING THAT THE DESIGN DOES NOT IMPOSE LIMITATIONS ON PERFORMANCE?
Ans. Our timepieces are made by one of the best watchmakers in Switzerland. The shape of our watches has been designed using sacred geometry. It is the perfect size for men and women. And it allows the perfect canvas to express your personal art. The story starts with the miniature sculpture above the dial, then moves to the dial, then to the strap, and ends with the buckle.
To allow ample space for the sculpture, we chose one of the smallest automatic movements in the market. It is a Swiss movement that was originally made for ladies' watches.
9. WHILE PROMOTING A BESPOKE SERVICE ON YOUR WEBSITE, DO YOU EXCLUSIVELY CONCENTRATE ON CREATING TIMEPIECES AND WRISTWEAR CONSISTENT WITH QANNATI'S INITIAL OFFERINGS, OR ARE YOU OPEN TO DESIGNING HIGH-END JEWELRY BASED ON CLIENT REQUESTS?
Ans. It is important to mention that Qannati's most important goal is to create bespoke masterpieces for its clientele. Qannati is a canvas for today's masters of time to express themselves and leave a legacy on their wrists. However, it is impossible for a new brand to claim that space. Therefore, it was important that we first showcase our brand to the world and express our multiverse and craftsmanship. We will continue with bracelets and timepieces because we are inspired by the kings of Mesopotamia who used to wear two ornaments on their wrists thousands of years ago.
For centuries, high jewelry brands have created jewelry art pieces with themes around animals and nature. This theme continues to this day. With Qannati, you have no boundaries to what you can create. There is no judgment as to what art piece represents you. Take for example our debut collection we call "Celebration of Time". We chose 7 moments in our existence from the very beginning all the way to the future. It was very challenging yet very exciting to summarize the existence of our universe in just 7 moments and yet combine so many universal themes in the same collection such as history, science, religion, mythology, spirituality, and sports. This level of boldness in high jewelry has never been done before.
10. WHAT IS THE TARGET DEMOGRAPHIC OR CUSTOMER PROFILE OF QANNATI?
Ans. Each person is different, and similarly, what makes Qannati different is the definition of art. In Qannati Objet d'Art, we focus on the art of time-keeping rather than time-telling. Our clientele is masters of their time. They do not need a watch to tell them the time. They travel through time every day, learning from their past, enjoining the present, and having a clear vision of their future. We founded Qannati for those masters of the time. And because every person is unique, Qannati is a canvas for these people to celebrate precious moments of their lives by freezing those moments and converting them into breathtaking wearable art pieces.
Qannati is for those who have mastered the art of the time. Successful people who want to celebrate their achievements and other precious moments in their lives.
This collection is composed of original handmade objects that will stand out in the eyes of an elite international clientele who appreciates the superlative craftsmanship of timeless ornaments, meticulously crafted and always one-of-a-kind. We believe in exclusivity, which is why each masterpiece is unique because each life experience is unique.
11. WHAT HAS BEEN THE RECEPTION OR FEEDBACK FOR QANNATI THUS FAR?
Ans. We have received exceptional feedback from clients and the media. We were honestly ready to get strong critics on the boldness of the approach. But, on the contrary, almost everyone says that they appreciate what we do, they haven't seen anything like it before, and that we have shocked the luxury industry. We now have clients in Dubai, Bahrain, and the US.
12. WHAT IS YOUR PROFESSIONAL OR PERSONAL HISTORY AND EXPERIENCE?
Ans. I am a marketing and public relations specialist with over 22 years of experience across the Middle East. I am in love with what I do. Marketing is in my blood. One of my strongest capabilities is "problem-solving creatively." I never repeat the same thing twice, even if it was successful the first time. I challenge myself to come up with newer and better ideas in everything I do.

13. IS THERE A SPECIFIC QANNATI PIECE THAT HOLDS A SPECIAL PLACE IN YOUR HEART, AND IF SO, WHAT MAKES IT YOUR PERSONAL FAVORITE?
Ans. All Qannati masterpieces are personal to me. But the one that I am wearing now is the most personal of them all because of the moment I froze in that piece. This is one of the simplest but dearest to my heart. In the middle of the piece, you see a beautiful green emerald that belongs to my mother.
Every time I look at a 90-degree angle, I see a reflection of myself on the emerald, which takes me back to when I was seven years old holding my mom's hand in the streets of Hamburg. It was a very happy moment, so I don't get tired of travelling back in time to it.
14. WHAT ARE SOME OF THE CHALLENGES THAT QANNATI HAS FACED OR OVERCOME IN ITS JOURNEY SO FAR?
Ans. Every day is a challenge but nothing stops us from fighting to shout our story to the world. My first challenge was to find the perfect partners who share the same mindset and faith in challenging a hundreds-year-old industry with a ground-breaking concept and agree to have their names engraved on the final product. Ultimately, the universe navigates me to 2 of the best in the industry, Frederic and Jothi. They are more than just business partners today. They are brand ambassadors.
As I was starting to build the brand, I had to navigate through the uncertainties of the Covid-19 pandemic. The most logical thing to do back then was to pause everything till humanity sees some light at the end of that dark tunnel. I kept pushing and didn't slow down a bit. It gave me more time to focus and sharpen my strategy. The COVID-19 pandemic brought with it multiple complexities with the supply chain and delivery times. However, those obstacles were eventually overcome.
Amongst the biggest challenges I personally faced was entering a totally new market, not just in terms of the industry but also geographically. At first, the luxury industry can be overwhelming, but it quickly becomes apparent that it's a small village where everyone is familiar with one another. I thank my team for introducing me to the right people within the industry who helped put Qannati on the map.
15. WHAT ARE THE FUTURE PLANS OR UPCOMING DEVELOPMENTS FOR QANNATI?
Ans. We haven't even started. Many people thought that the "Avengers End Game" was the end of that story. Soon we realized that they just started because there are multiple universes. Qannati Objet d'Art is kind of the same. We have a sacred pattern that is very dear to us, called the Qannati Spectrum. It is inspired by the Flower of Life. In this pattern, you see Qannati's multi-universes; past and future, matter and consciousness, reality and fiction. There are endless possibilities for what Qannati can produce.
Currently, we are in the process of touring through the USA with exclusive viewings with local partners. In the meantime, we have started working on our second collection, in which we will push the boundary of our storytelling and craftsmanship to new heights.
For more information, visit Qannati.